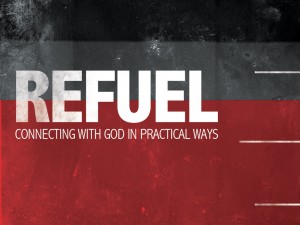 Today I was talking with a pastor friend of mine about the need for Christian leaders to refuel themselves in ministry. Ministry responsibilities can be hard work, resulting in long hours and challenging days. In 1 Samuel 30:6, we read how "David strengthened himself in the LORD his God," during an emotionally difficult season in his life. In looking at David's example, it's important that those who are in ministry, either vocationally or as a volunteer, take time to fill their tank, so that ministry is the overflow of an emotionally healthy self.
Over the years, I have gotten better about taking time to refresh, rejuvenate and renew. Each person rejuvenates differently, but here are six things I have found that fill my tank and inspire me in the race that God has called me to…
Listening to music – Nothing uplifts my soul like an inspiring or upbeat song.
Practicing spiritual disciplines – Time spent with Jesus in prayer and Bible reading gives me perspective, hope and principles for living.
Reading – There's something very inspirational to me about reading a good biography or Christian living book.
Hanging out with inspiring people – I love to hang out with visionary leaders who want to impact the world as well as hear the amazing stories of God's redemptive work in others lives.
Enjoying hobbies – I love capturing the beauty of God's creation through the lenses of a camera! And I marvel in the strategy behind a great baseball game.
Getting away – Unplugging and getting out-of-town, even for a few days, clears my mind and helps me refocus on what's really important in life.
By being a healthy leader, you motivate others to live a healthier life as well. So take time to refresh. In doing so, you give yourself and those you lead a great gift.