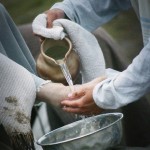 If you know me well, you have probably heard me teach on a Scripture or two from John 13-17. There is a reason for that, the Upper Room Discourse happens to be one of my most favorite sections in the Bible. I have often wondered what it must have been like to be part of this original small group and to share those final hours of Jesus' life with him and his close friends.
On the eve of Jesus' arrest, Jesus invites his disciples to share the Passover meal to show them "the full extent of his love." Jesus washes his disciples' feet, comforts his friends with the promise of his presence through the Holy Spirit, and prays for them and for those who would come to know him because of their witness. It is a beautiful illustration of Jesus' humility and love for his friends.
I am challenged by the example Jesus set for us in the Upper Room. Instead of focusing on what was to come, Jesus gave of himself. Instead of asking for comfort, Jesus comforted his friends. What a wonderful example of being others-focused. This service reflects the character of Jesus, for he did not "come to be served, but to serve and to give his life as a ransom for many" (Matthew 20:28).
There are many ways we can serve others. Perhaps it's time to pick up the towel and wash some feet!