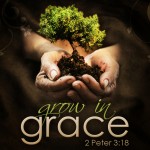 Peter clearly understood that people grow better in grace when he encouraged his readers to "grow in the grace and knowledge of our Lord and Savior Jesus Christ" (2 Peter 3:18). But what does grace mean, and how does the experience of grace foster transformation?
While righteousness has always been by faith, God operated under the system of the law, with the nation of Israel in the Old Testament. However, in the New Testament, God operates under a system of grace; because His wrath was satisfied in the death, burial and resurrection of his Son, Jesus Christ. Paul, in writing to the Ephesians states, "for by grace you have been saved through faith; and it is not of yourselves, it is a gift of God; not as a result of works, so that no one may boast" (Ephesians 2:8,9). Grace is literally defined as "unmerited favor." And because of God's grace, one can enjoy favor with God, not because of what they have done, but because of what God has done.
Unfortunately, it's so easy in our world to think we need to do something to earn God's favor. As though God's grace was too good to be true. But since our acceptance before God is not based upon our performance, we can find true freedom in Him, and our life becomes a thank you to Him for what He has already done. This is the experience of grace that fosters transformation, because no longer do we feel this nagging sense of having to do anything to earn God's favor, but instead we simply respond to Him because of what He has done for us.
Grace transforms because it leads us to relate to a loving God not out of a sense of obligation, but out of love. The law was never intended to bring righteousness, and we are foolish to think that we can ever add anything to Christ's completed work on the cross. Guilt and shame only lead us away from God and into hiding. Grace leads us toward God and toward one-another. Therefore, may the church always be characterized by grace, because after all, people grow better in grace.