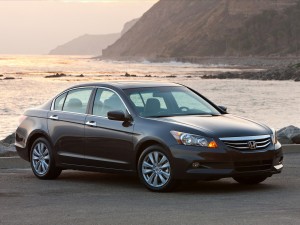 Yesterday, I planned to take my 2012 Honda in for its first service. The dealer we had bought the car from in So Cal, had called to remind us that it was time for its three-month service. So I figured, I was well overdue and needed to get in to a dealer right away.
When I called AutoWest Honda in Roseville to schedule my three-month service, they informed me that they didn't do a three a month service on a 2012 Honda Accord. "What do you mean," I asked. "I received a call from our old dealer reminding me I needed to get in. And I already have 5,000 miles on my car. Surely, I at least need an oil change?" The man on the other phone proceeded to tell me about the monitoring features of the newer Honda's and that unless I had a "red wrench" warning light on in my car, that it wasn't due for a service. Confused and a little dumfounded, I asked, "Well how long do I go on before getting my car serviced?" And he went on to say, "Well that depends on how often and how far you drive your car! It could be a whole year before the service light goes on." "You've got to be kidding me!," I said and thanked the man for his time.
Since my SoCal dealer was so nice to give me a year's worth of free oil changes, I thought surely the AutoWest dealer's service department didn't know what they're doing. And in my doubt, I called the SoCal dealer's service desk and got quite the opposite reaction. When I spoke with them, I got a scolding for waiting so long to bring my car in for service. "Sir," the man said, "you should have brought your car in over 1,000 miles ago." No mention of the warning light, no mention of the new monitoring system. So I asked him, "Well who am I to trust? I am getting two different opinions from two different Honda dealers!" He didn't have an answer for me, so I thanked him for his time and hung up the phone.
To tip the scales, I decided I would call a third dealer! However, as I prepared to call another, my wife suggested I open up the glove box of my car and read this little booklet known as an "Owner's Manual" and see what it might have to say! Brilliant, I surmised and I immediately went to the garage to get the manual. Sure enough, the service people at AutoWest Honda were right! They were following the manufacturer's suggested service plan. The SoCal dealer, not so much!
As I considered my experience that day, I thought, how often it is in life that we are quick to seek man's opinions when trying to make significant decisions that can have significant impact on our lives. For me, I was ready to call and ask for another man's opinion about the maintenance of my car, while the Owner's Manual, written by the manufacturer of the car, sat in the glove box. As Christians, aren't we a lot like that? We're quick to seek out the thoughts and opinions of our friends and family, when it comes to decision points in our lives, instead of pursuing what God has to say. Like me in this car service scenario, the manufacturers' manual was readily available, but I was still looking to man's opinions. Likewise, as Christian's we forget that God has given us His Word, in order for us to live productively in this life! And like my Owner's Manual's, for many of us, God's Word sits on a shelf collecting dust.
Well I don't know about you, but next time I'm reading the Owners Manual! That's God's Word to us, written by the one who knows us best!