According to the Pew Internet & American Life Project, 79% of American church goers are internet users and 86% are cell phone users. These numbers are actually higher when compared with those of non-church goers. Yes, we truly live in a digital age and there is an app for much of what was once print. The same is true for the Bible. In fact, there have been over 40 million downloads of the YouVersion Bible App since it's inception, allowing millions to read the Scriptures on their smartphones, iPads and other digital devices.
I have to admit that it's been hard for me to read the Bible digitally, but I have to say that I have enjoyed the tremendous resources that a Bible app brings. From reading plans, to the availability of different translations at the touch of a finger, to my recent discovery of the audio playback function, I have begun to slowly adapt to its use in my day-to-day life. And I believe I'm just skimming the surface, when you compare the free resources available for on-the-go Bible reading.
If you haven't downloaded or discovered these amazing apps yet, here are a few to check out:
YouVersion: Created by LifeChurch.tv to be a free resource that gives people a tool to integrate Bible reading into ones mobile lifestyle, YouVersion offers a great variety of translations, languages and Bible reading plans. In addition, there are integrated platforms to bookmark favorite verses, take notes and integrate your Bible reading into social media platforms like Facebook and Twitter.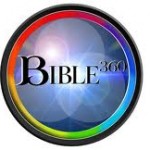 Bible360: This amazing new app combines resources from the Glo Bible, Zondervan and Survivor producer Mark Burnett. Featuring the NIV translation, it offers 360 degree virtual tours and animated maps, as well as a journal option and integration with social media.
Bible.is: Featuring video footage from 61 segments of The Jesus Film Project, Bible.is also includes daily Bible reading programs, interactive tools and the ability to take notes as well as share socially.