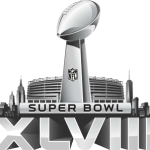 With the Seahawks blow out in SuperBowl XLVIII, one would hope that the commercials would bring some fun and entertainment to televisions biggest sports event. However, I have to admit that this years line of commercials left me highly disappointed and wanting more. Like last year, I avoided watching the Super Bowl commercial previews, except for two, so I had a spirit of anticipation going into the game, but just wasn't wowed. However, the commercials that did get me, where the ones that celebrated America's patriotic spirit and the people who make this nation great, much like last years line up of favorites. And I was super grateful that most of the commercials were family friendly.
So without further ado, here's my line up of favorites:
Best Overall: Budweiser Puppy Love
Funniest: Radio Shack
Most Inspirational: Duracell
Honorable Mention: Chevy
What was your favorite?