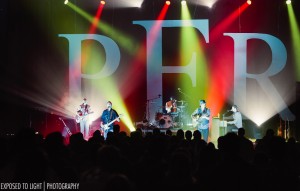 If you know me, you know I am huge fan of Contemporary Christian Music (CCM)! I have been listening to the CCM genre since 1980 and have a huge library of discs that span the decades. In addition, I was a disc-jockey at KGFT FM in Santa Barbara during college, so I have some pretty rare 45's and songs. However, in all my years listening to CCM, I have never heard this song from PFR, nor have I seen the video, until yesterday.
The song is so ridiculous and the video so funny, I just had to share. The first two minutes of the song are essentially a sweet music video version of Marley & Me. The bands sings a sentimental ode to a beloved golden retriever named Goldie, as viewers watch clips from home video of the friendly pooch playing fetch, running with the family and frolicking on the beach. Then, jarringly, at the 2:13 mark things take a dark turn as the band sings the bridge, informing the listener that Goldie may have in fact met an untimely demise, and something far more sinister is afoot: We are confident that this incident / Was not an accident / As per our investigation.
Well, what the heck happened to Goldie? Are they suggesting Goldie was murdered?! Disturbingly, there is a brief shot at 3:05 that appears to show the band members digging a shallow grave for Goldie! The video then mysteriously returns to its solemn tone as if nothing weird just happened. The world may never know what truly transpired on Goldie's last day.
I can't believe that this song ever got published. Let alone, that there was a video made for it.